My Blog
Posts for tag: mouthguard
By Pediatric Dentistry of Kendall
February 09, 2015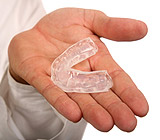 Youth sports can be a positive life experience for your child or teenager. But there's also a risk of injury in many sporting activities, including to the teeth and mouth. An injury to the mouth, especially for a child or young adolescent whose teeth are still developing, can have a significant negative impact on their oral health.
When it comes to teeth or mouth injuries, the best preventive measure is for your child to wear an athletic mouthguard, especially for contact sports like football, hockey or soccer. But be warned: not all mouthguards are alike — and neither is their level of protection.
Mouthguards can be classified into three types. The first is known as "stock," which is the least expensive and offers the least level of protection. They usually are available only in limited sizes (small, medium, large, etc.) and cannot be custom-fitted for the individual. This significantly lowers their protective ability, and thus we do not recommend these to our patients.
The next type is referred to as "boil and bite." These mouthguards are made of a material called thermoplastic, which becomes pliable when heated. When first purchased, the guard is placed in boiling water until soft; the individual can then place them in the mouth and bite down or press the guard into the teeth until it hardens and forms to their palates. Although this type offers a better fit and more protection than stock mouthguards, it isn't the highest level of protection available.
That distinction goes to the last type — a custom mouthguard made by a dentist. Although the most expensive of the three, it offers the best fit and the highest level of protection. A well-made custom mouthguard is tear-resistant, fits comfortably, is easy to clean and doesn't restrict speaking and breathing. We recommend this guard as your best alternative for protecting your child athlete from tooth and mouth damage.
If you would like more information on the use of athletic mouthguards for young athletes, contact us or schedule an appointment for a consultation. You can also learn more about this topic by reading the Dear Doctor magazine article "Mouthguards."
By Pediatric Dentistry of Kendall
July 21, 2014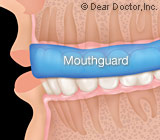 Whether you are a serious or "weekend" athlete, you know the importance of protecting yourself against injury. While looking after your joints, ligaments and bones may garner most of your attention, you shouldn't neglect looking after your teeth and mouth as well. In fact, there are more than 600,000 emergency room visits each year for sports-related dental injuries. A knocked out tooth could eventually cost you $10,000 to $20,000 in dental treatment during your lifetime.
The best protection is really quite simple — wear a properly-fitted athletic mouthguard. Researchers estimate that mouthguards may prevent more than 200,000 dental injuries annually. Be aware, though — not all mouthguards are alike or provide the same level of protection.
Mouthguards generally fall into three types. Stock mouthguards are the least expensive of the three, and also the least effective at protection. They come in limited sizes and can't be customized to the wearer. "Bite and Boil" mouthguards are made of thermoplastic that becomes pliable when heated (as when boiled in water). In this state the mouthguard can be pressed into the wearer's teeth, which hardens to that fit once the thermoplastic cools. However, the fit isn't exact and they don't always cover the back teeth. Also during the heat of competition, the mouthguard softens and loses some of its stability and protection.
While more expensive than the other two types, a custom-fitted mouthguard made by a dentist provides the best level of protection. Made of a tear-resistant material, they are more comfortable to wear than the other types and cover more of the interior of the wearer's mouth.
A properly fitted and worn mouthguard protects the mouth and jaw area in a number of ways. It cushions the soft tissue of the lips and gums from cuts and abrasions caused by contact with sharp teeth surfaces after an impact. It absorbs and distributes forces generated in an impact that can cause tooth loss or even jaw fracture, and also cushions the jaw joint (TMJ) to reduce the likelihood of dislocation or other trauma.
A custom-fitted mouthguard can cost hundreds of dollars, but that price is relatively small compared with the physical, emotional and financial price you'll pay for an injury. This investment in your oral health is well worth it.
If you would like more information on the use of athletic mouthguards, contact us or schedule an appointment for a consultation. You can also learn more about this topic by reading the Dear Doctor magazine article "Athletic Mouthguards."