My Blog
Posts for tag: bonding
By Pediatric Dentistry of Kendall
April 10, 2015
Nearly every parent and caregiver has experienced that almost instantaneous sick feeling when they see that their child has been injured, especially when it is an injury to the mouth and teeth. For some, it is just a bloody lip; however, if the accident chipped a tooth, then you may have a completely different situation on your hands. If the nerve of the tooth has not been damaged, you needn't worry too much — a composite (plastic) tooth-colored restoration that is actually bonded to the tooth is an ideal material for repairing most broken or chipped teeth. See us as soon as possible to assess the extent of injury, so that proper and appropriate action can be taken.
An additional reason why bonding with composite resin may be the ideal choice for repairing a child's chipped tooth is that it can be custom created in virtually any shade so that it perfectly matches the damaged tooth and the surrounding teeth. It is also far less expensive than a crown, an important factor to consider when repairing a primary (baby) tooth that will eventually fall out to make room for a permanent tooth. If the injury is to a permanent tooth, a composite resin still may be ideal to use as a restoration until your child or teenager has stopped growing or playing contact sports. This is because your teenager may be too young for a more permanent restoration such as a crown or porcelain veneer.
An important, proactive step you can take to be prepared for the next time your child has a dental injury is to download Dear Doctor's Field-side Pocket Guide for Dental Injuries. This handy, quick reference guide is a must have for athletes, parents, caregivers, teachers, coaches or anyone who is often in an environment where a mouth injury is likely to occur. Knowing what to do and how quickly you must respond can make the critical difference between saving and losing a tooth.
By Pediatric Dentistry of Kendall
September 19, 2014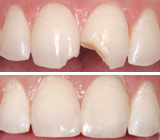 Imagine this: your active, adventurous child — or adolescent — loves high-risk contact sports like hockey or football, and while playing breaks a front tooth. After an emergency trip to our office, we recommend bonding as a good choice for this repair.
"What is bonding?" you ask. Here's what you need to know. In a bonding procedure, a composite resin restoration material is attached (bonded) to the broken tooth, and it looks as good as new.
Composite resin restorations are tooth-colored filling materials composed of a special plastic-based matrix for strength, with glass filler for aesthetics and translucence. The combination looks just like a natural tooth. The composite resin material is physically bonded to the remaining healthy tooth structure. First the natural tooth enamel or dentin must be etched so that the composite resin can attach and actually join to the tooth. In the end it will function as one and look exactly like a tooth.
Composites can be placed directly on the teeth in our office, quite easily, and they are relatively inexpensive. They look natural and can be matched to your child's natural tooth. They require little to no tooth reduction. Bonded composite resin restorations are the best choice for children and teenagers because their teeth and jaws are still growing and developing. What's more, they are still active in their sports and could need further restorations.
Composite resin restorations may need to be replaced with more permanent restorations after your child is fully grown. The bonded resin restorations may wear over time, and may stain and dull somewhat with age. When your child has completed growth, more permanent restorations such as porcelain veneers or crowns may be necessary.
By the way, a custom-made mouthguard might have prevented injury in the first place and certainly should be considered in the future.
If your child has chipped or damaged a tooth, contact us today to schedule an appointment or to discuss your questions about bonding and a protective mouthguard. You can also learn more by reading the Dear Doctor magazine article "Repairing Chipped Teeth."